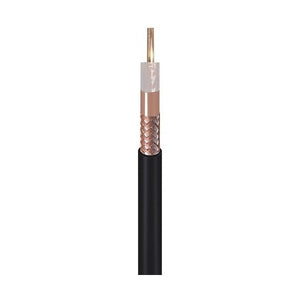 F-Zero Coax Cable - NEW 'Formula Zero' High Performance Very Low Loss Coax Cable (50M Drum)
New Formula Zero high performance very low loss coax cable (100 Meter Drum).
Formula Zero coax cable is low loss 50 Ohm coaxial cable suitable for video, RF signal and broadcast transmissions.
It is our professional low loss cable and has been specifically formulated and designed to get as close to 'Zero Loss' as possible - see the outstanding loss performance statistics below.
Key Specifications
Outer Diameter 10.2 mm  

Impedence 50 Ohm

Copper Inner conductor 2.72 mm

Screening Copper foil and braid giving 100% shield

Velocity factor 0.818
Insertion Losses
Loss: 5 MHz 0.78 dBd (Per 100m)

Loss: 10 MHz 1.4 dBd (Per 100m)

Loss: 30 MHz 2.35 dBd (Per 100m)

Loss: 50 MHz 2.92 dBd (Per 100m)

Loss: 100 MHz 4.5 dBd (Per 100m)

Loss: 200 MHz 6.32 dBd (Per 100m)

Loss: 400MHz 09.87 dBd (Per 100m)

Loss: 1000MHz 16.71 dBd (Per 100m)